Adaptive Tennis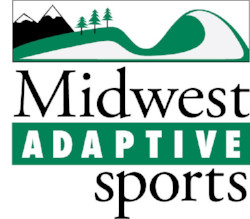 The Whole Person (TWP) is an organizational member of the United States Tennis Association and they have partnered with Midwest Adaptive Sports (MAS) to offer the fun and exciting sport of wheelchair tennis.
Wheelchair tennis is one of the fastest growing recreational and competitive sports for people with disabilities, and is becoming one of the most accessible and integrated sports around the country. The Whole Person and Midwest Adaptive Sport's goal is to make tennis available to everyone, whatever the disability. Tennis is adapted to the disability, not the disability to tennis. Because playing tennis benefits one's health, fitness, self-confidence, self-esteem, and even provides improved mobility necessary for independent living, TWP and MAS promotes tennis in the greater Kansas City area. Come join us on the courts for fun, friendship, and fulfillment.
There are two divisions in competitive wheelchair tennis - paraplegic and quadriplegic. To be eligible to compete, a player must have a medically diagnosed permanent mobility related disability that result in a substantial loss of function in one or both lower extremities. Competitive tennis in the paraplegic division is divided into four divisions. C division for beginners, B division for intermediate, A division for advanced, and the U.S. Open division for elite players. Competitive tennis in the quadriplegic division is divided into two division. A division for beginner/intermediate and U.S. Open for advanced/elite. Currently the No Coast Wheelchair Tennis Team has athletes in the paraplegic divisions who compete in the C, B, and A divisions in tournaments all over the Midwest.

Wheelchair tennis follows the same rules as able-bodied tennis, with one exception. That being, the wheelchair tennis player is allowed two bounces instead of one.
Contact Rick Haith if you are interested in playing wheelchair tennis at the recreational or competitive level.
---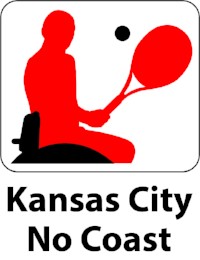 Kansas City No Coast Program
Tennis for All Abilities
Entry Level and Recreation Tennis Session: 1st and 3rd Saturdays from 11:00 AM – 12:30 PM at Northland Racquet Club, 306 Tennis Ct, North Kansas City, MO. $5 per session.
We are teaching individuals basic racquet techniques, proper forehand, proper backhand, and mobility if they are able to do so. These beginner sessions are fun and interactive, involving simple techniques such as dropping or bouncing a ball to the participants as they try to properly make contact with the tennis racquet and the ball.  Sessions are not focused on playing an actual match.
Kansas City No Coast Wheelchair Tennis Team
Competitive Tennis Practice: Wednesdays from 6:00 – 8:00 PM at Northland Racquet Club, 306 Tennis Ct, North Kansas City, MO.  Coaching provided for beginner "C" division players who are looking to compete in tournament play. There are court fees for the competitive program.
Contact Rick Haith for information about the Kansas City No Coast Wheelchair Tennis Team - AND - the Tennis for All Abilities sessions:  816-627-2229 or email to rhaith@thewholeperson.org.
---