Power Soccer
Power Soccer is the first competitive team sport designed and developed specifically for power wheelchair users. Athletes' disabilities include quadriplegia, multiple sclerosis, muscular dystrophy, cerebral palsy, and many others. The game is played in a gymnasium on a regulation basketball court. Two teams of four players attack, defend, and spin-kick a 13-inch soccer ball in a skilled and challenging game similar to able-bodied soccer.
---
Spring 2018
Youth (K-12) Power Soccer Workshop
Spring 2018:  April 14, 9:00-11:00 am
Location:  68's Inside Sports, 11301 W 88th St., Overland Park, KS 66214
Cost:  $10 registration fee (financial assistance is available)
Interested in participating?
Contact:  Rick Haith, The Whole Person, Recreation Outreach Coordinator, 816-627-2229, rhaith@thewholeperson.org.
---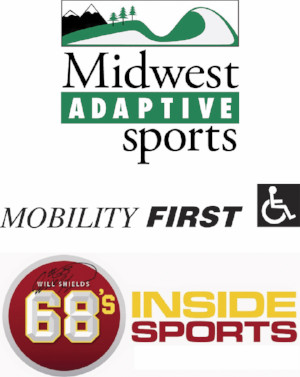 THE GAME
Allows individuals with a variety of diagnosis in power wheelchairs to participate in a fun, recreational game of soccer
Uses the same rules as traditional soccer
Three players and a goalie make up one team
Players have guards temporarily attached to their wheelchairs and use a larger soccer ball
Participants must have swing away leg rests
CRITERIA
Four-wheel power wheelchair — will supply wheelchairs if needed
Power wheelchairs with center posts or swing away leg rests are welcome. If you have center post leg rests or do not normally use a power wheelchair, please contact Mobility First (816) 350-7600.
Participants must be able to independently maneuver a power wheelchair at varying rates of speed
Participants must be able to follow one-three step directions independently
For safety reasons, no cords or bags of any kind can hang from the wheelchair
PARTICIPATION
To ensure a fun and safe event, youth must be:
Ages K-12 and able to actively participate in workshop*
Seizure free for at least 2 months*
Caregiver presence needed for assistance if participant is not physically independent*
*NOTE:  Parent/guardian will need to sign a waiver before child can play. Waiver will be available at venue.
THANK YOU!
Special thanks to Mobility First and 68's Inside Sports for helping make the power wheelchair soccer workshop possible.
---