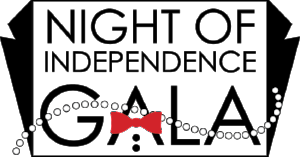 Night of Independence Gala
Will you pledge to be a Table Captain at the inaugural Night of Independence Awards Gala?
The inaugural Night of Independence Gala will honor individuals and organizations that are working to further The Whole Person's mission to assist people with disabilities to live independently. This creative black tie evening will feature dinner, dancing to "SellOut," a silent and live auction, and balloon pop.
We already know that Table Captains will be at the heart of the Night of Independence Gala's attendance success.
Each Table Captain strives to fill a table of 10, creating their own guest list and spending an inspirational evening surrounded with friends and family. You can even Co-Captain your table with a friend if you like.  It is a great way to guarantee you are sitting with a table full of friends.  As a "thank you" for helping to support this inaugural event, Table Captains will be listed in mailed invitations, program booklets and night of event signage.
Table Captain Duties
Table Captains for the Night of Independence Gala will serve a critical role in the success of the event. By pledging to sell a full table of 10 seats, Table Captains ensure that the event will be SOLD OUT and that our first Gala will be a huge success and become a successful fundraiser for The Whole Person and our mission to connect people with disabilities to the resources they need to lead independent lives. TWP also strives to assemble a diverse group of Table Captains in order to fully represent all communities in support of independence.
There is no financial commitment to become a Table Captain other than purchasing your own ticket and we only ask that you will do everything you can to fill your table. 
---