July Jubilee: Celebrating Independence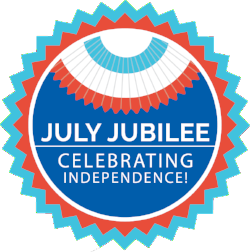 The July Jubilee is a 2-day celebration of the anniversary of the Americans with Disabilities Act (ADA).  Held annually in our parking lot at 3710 Main Street, the July Jubilee is a fun and festive community event that everyone looks forward to each year.
Makers Fair and Flea Market and All-you-can-eat Pancake Breakfast Fundraiser by Chris Cakes
Saturday, July 29; 7:00 am - 1:00 pm
Celebration of the 27th Anniversary of the ADA
Monday, July 31; 10:00 am - 2:00 pm
Please reserve your sponsorship early to receive the greatest range of benefits.
Reserve by July 14, 2017 to receive recognition in the event program.
CLICK the desired sponsorship to view level benefits and add to your shopping cart.